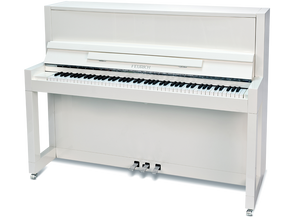 Feurich Upright Piano Model 115 PW-Premier
R 115,000.00

R 115,000.00

Save R 15,000
* Price listed is an estimate. To get a quote, please add it to your cart, and checkout.
---
---
Feurich 

Upright Piano

115 PW-Premier 
The most compact upright in the FEURICH range of pianos–with an elegant

 Bauhaus 

design, this instrument is perfect for modern city living, where space is at a premium.

Thanks to some creative piano design features, the FEURICH 115 – Premiere manages to get a larger-than-life sound from an instrument of this size.




Designed by renowned German piano builder

 Rolf Ibach.




Extremely balanced sound for a small instrument.




Unique FEURICH action design–no plastic components.




Stylish Bauhaus design.




Celeste pedal for quiet playing mode–perfect for sensitive neighbours!




The Model 115 – Premiere has been through a rigorous process of improvement and redevelopment to result in the quality instrument we have today. The Model 115 –

Premiere is available in black or white, with brass or chrome interior fittings, and can easily be fitted with the optional

 Feurich silencer system.