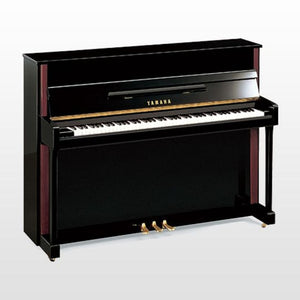 Yamaha JX113 T PE
R 110,000.00

R 110,000.00
* Price listed is an estimate. To get a quote, please add it to your cart, and checkout.
---
---
Description

Featuring superior sound through added depth and traditional cabinetry, the JX113T looks and sounds magnificent in any living environment.
COMBINING HIGH QUALITY WITH FUNDAMENTAL PERFORMANCE
Yamaha designs and manufactures its soundboards, frames, keyboard actions, and other piano parts with unwavering reliability and under the strictest quality control. All parts are assembled by skilled craftsmen to create a thoroughly balanced piano that combines Yamaha's uniquely pure sound quality with excellent performance. The result is a high level of expressiveness that responds faithfully even to those who are just playing the piano for the first time.
Height: 113 cm
Width: 150 cm
Depth: 53 cm
Weight: 194 kg
Finish: Polished Ebony
Combining quality & looks, this is one of the most popular models by Yamaha. Besides its exterior design, the rich tonal quality also makes it a great instrument for students taking up to advanced piano studies.