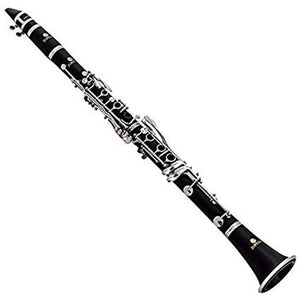 Jupiter JCL 700NQ Clarinet
R 9,915.00

R 9,915.00
* Price listed is an estimate. To get a quote, please add it to your cart, and checkout.
---
---
The Jupiter JCL700N clarinet is a standard clarinet, and most definitely serves as a good choice for any student. This clarinet is commonly used by jazz bands, marching bands and orchestra. It affords the student player and the listener a good music experience. It is a durable clarinet and would prove a valuable gift. It features a 14.80mm bore, ABS resin matte finish, nickel silver bell ring, Comfortable C/G key riser, undercut tone holes and adjustable thumb rest.
FEATURES:
Offset Trill Keys are of the traditional French configuration helping to alleviate excess moisture accumulation and ensure premium performance.
ABS Resin Body provides a durable alternative to a wood body perfect for rigorous playing demands without sacrificing tonal quality.
Nickel-Plated Nickel Silver Keys offer the combination of great feel and long lasting beauty.
SPECS:
Key of Bb
ABS Resin Body
Nickel Silver Bell Ring
Nickel-Plated Nickel Silver Keys
14.80mm Bore
Adjustable Thumb Rest
Undercut Tone Holes
65mm Barrel
Comfortable C/G Key Riser
With ABS Molded Case (JCL700NA) or With Side-Carry Softcase (JCL700NQ)